Opening the Automated Insights Settings Dialog
WATCH A TUTORIAL: https://lityx.com/automated-insights-tutorial/
There are multiple places from which you can initiate setting up a dataset for Automated Insights.
1) From the Selected Dataset menu or right clicking on the dataset.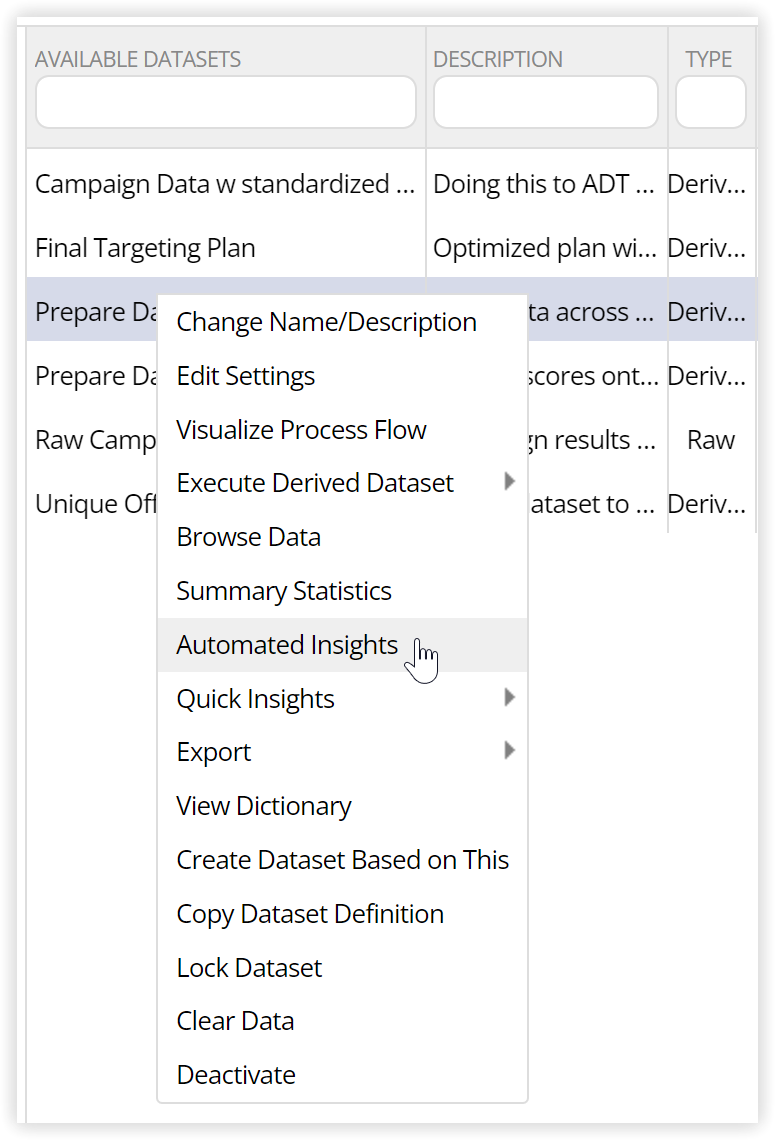 and then clicking the

button.
2) From the Process Flow by clicking the

icon. (Note, the icon will be grey if there are no Automated Insights settings yet)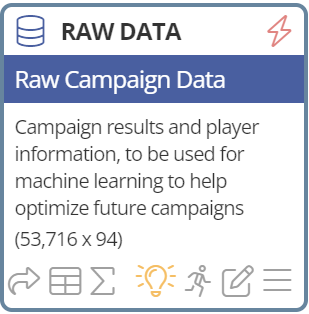 and then clicking the

button.
3) From within the dataset settings dialogs. For Raw Datasets, this is found in the Advanced section:
and for Derived Datasets, this is found in the Finalize area:

Automated Insights - Settings Tab
In all these cases, the Automated Insights settings dialog is initiated. Only the Target Variable input is required.
Target Variables for Insight - Select the variables for which to generate the automated insights on this dataset. Up to five variables will be processed automatically when the dataset is refreshed.
Variables to Exclude - If there are any variables you wish to specifically exclude from the automated insights analysis, select them here. Use this option to exclude variables that are highly correlated with the targets but should not be considered predictive. Each selected target variable will automatically not be included in the analysis for other targets.
Multivariate Segmentation Title - This provides a custom title for the Multivariate Segmentation output from Automated Insights.
Filter Tab
The filter tab can be used to filter the dataset before running automated insights on it. This is a common dialog in LityxIQ that is explained here: https://support.lityxiq.com/806706-Using-the-Filter-Dialog.